Cell manufacturing
Cell is the key components of battery pack. Our cell manufacturing facilities adopts full-automatic production lines to produce first class cells. The one-piece-flow system guarantees high efficiency in production and testing. A constant control carried out by quality management ensures a consistent high-quality standard of products.
Battery manufacturing
With the developement of economy, more and more people would like customized battery packs to meet their demand. Small quantity, fast delivery brings huge challenge to flexible production. Superpack keeps several semi-automatic production lines for small orders, protypes and samples. The key process including,
1. Preparation
Cables are prepared by cutting the cables to length, stripping and galvanizing to ensure that there are no errors in the following steps. The welding contacts are prepared to avoid needless welds in production. The safety boards are also prepared for the production at this stage. All cables and components are soldered.
2. Test, Isolate and Glue Cells
Cells are tested and sorted by automatic machines based on capacity,voltage & resistance. Cells are then glued with isolation tape to protect them from short circuits. A washer is then fitted to the top of the cell. The washer has two functions: Isolation and cutting the positive electrode.
Cells are stuck together with special glue. This process guarantees stability of the battery pack and relieves the welded connectors. If they were not stuck together stress would affect the welded connectors.
3. Weld Connectors
Once cells are isolated and glued, they are then welded. The welding process is conducted by means of a resistance welder. The connectors used are made of completely stainless nickel. Due to the bespoke equipment used, the welding process achieves maximum stability.
4. Test PCB
The testing of safety boards (PCB) is executed with specially designed testers.
5. Solder on PCB
After safety boards have been tested and prepared they are soldered on to the battery pack.
6. Ultrasonic Welding/ Foil Shrinking
There are several ways to protect the electronics against external influences. The battery packs can be integrated into a specially designed housing. This housing is put together and ultrasonically welded in special cases. In many cases, the battery pack has a shrink foil which butts against the battery pack due to the heat of a hot air gun or shrink tunnel.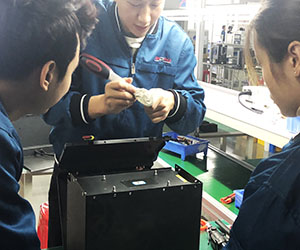 7. Final Inspection and Packaging
All devices pass through a final inspection at the end of the production process. The test is conducted by aging machine. Here, it's possible to check the communication of the battery pack. Test logs are created and stored automatically. The serial number is registered in the battery pack and a label is generated.
The packaging is the final step in the production chain. Employees ensure that all battery packs have valid UN Transportation certification (UN 38.3) and that the packaging is marked accordingly.
Superpack built a full-automatic production line to produce e-bike batteries in Xupai,our mother company in Zhejiang Province. Consistent high-quality products and fast delivery help our e-bike customers transit from traditional lead acid batteries to lithium ion batteries quickly as per latest regulation in China.
Portable Power Station Manufacturing